> Products & Services: Roofline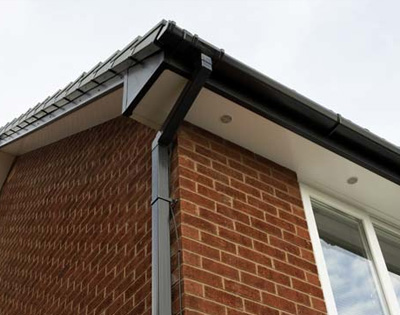 Many homowners are now realising the benefits and potential aesthtical look of installing quality PVCu fascias, soffits and guttering.
They also provide a variety of other benefits such as acting as a practical weather seal, decorative finish or channel for rainwater.
All of our products are made with virtually maintenance-free PVCu, which requires no regular upkeep. In fact, PVCu can be wiped clean with a damp cloth, so you won't need to be hard at work on your roofline to maintain it.
Our Roofline Products include:
Guttering: Our high-quality guttering will collect the rainwater that falls on you roof and protect your property from water damage.
Downpipes: Protect the foundations of your home by channelling rainwater away from the base and safely draining it away.
Bargeboards: Protecting the roof timbers from the elements, Bargeboards keep your roof lining looking smooth and consistent.
Soffits: Soffits keep the under-surface of the overhang of your roof looking clean and tidy.
Fascias: Help cover and protect the ends of your rafters with elegantly curved fascias to match our PVCu casement windows.
Cladding: We can replace your rotten or weather-damaged wall surfaces with our attractive and durable cladding.